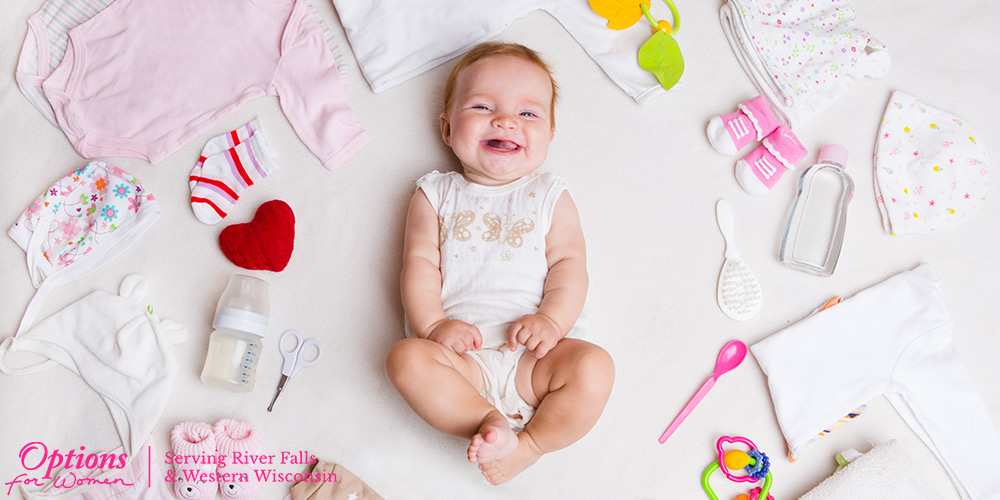 Are you an expecting parent, guardian or a parent of a child in need of material assistance? Do you need help making ends meet? Do you need help finding local resources? Options for Women-River Falls staff work hard to ensure that everyone receives the support they are looking for. Whether you are looking for assistance short-term or long-term, we will help you along your journey. We offer an Earn While You Learn program to help parents learn about important topics and receive necessities for their child. In addition, we are able to refer you to many other community resources that may be available to you and your family.

What is Earn While You Learn?
Earn While You Learn, or EWYL, is a program intended to help parents understand specific milestones before, during, and after pregnancy. There are many topics that parents can choose from. Categories to choose from include: Pregnancy, Parenting, Life Skills, and Relationships. A few topics to discuss from our lengthy list may include Prenatal Care, Preparing for Labor/Delivery, Milestones for Baby, Infant Nutrition, Balancing Work and Family, Healthy Boundaries and more. During a session, parents can watch videos with a Client Advocate, discuss questions, and review the next steps. EWYL simply allows you to grow as a knowledgeable parent with the help of one of our dedicated staff members!

Once you have completed courses through the EWYL program, you can then shop for your child in our Baby Boutique. The beautiful Baby Boutique has baby clothes, diapers, formula, strollers, cribs, blankets, and so much more! Make sure to stop in to take a tour of the Baby Boutique!

Who Qualifies for EWYL?
The EWYL program is designed to help parents during the early years of the child's life. If you are thinking about having a child, currently pregnant, or have a child two years and younger, you qualify for the Earn While You Learn program. We hope that we can help meet your needs and feel prepared for your new addition to the family.

When Can I Receive My EWYL Goods?
Earn While You Learn appointments vary in length depending the topic you choose. Immediately after discussing the topic one-on-one with a Client Advocate, you may enter our Baby Boutique and choose free items. From clothes, diapers and wipes, formula, baby hygiene items,and more material assistance items. If you would like bigger items such as cribs, car seats, and other items, you may attend two or more EWYL sessions. You are encouraged to attend as many appointments as you can to help you be the best parent you can be.

I'm Interested!
Interested in scheduling an appointment? Find us at optionsforwomenrf.com or call us at (715) 425-8539 and schedule your appointment today. We look forward to seeing you soon!