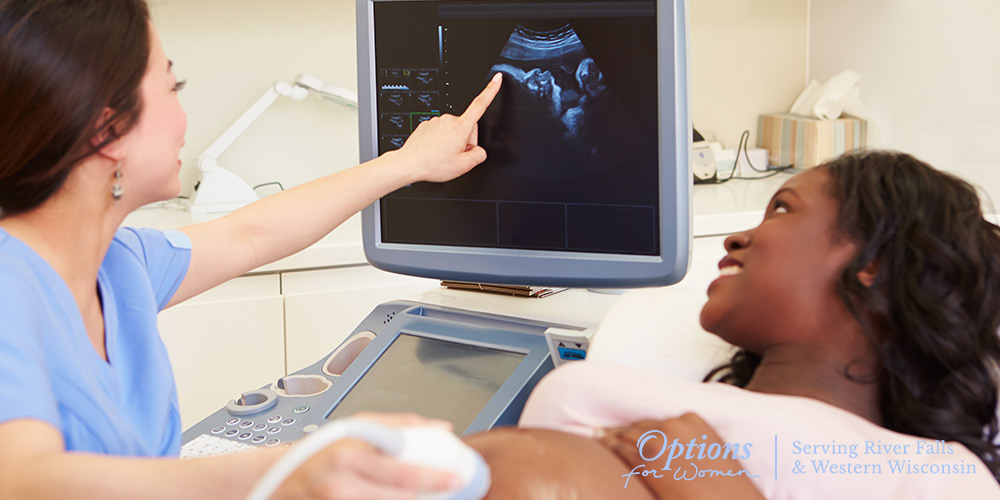 Am I Pregnant?
Did you take an at-home pregnancy test? Are you showing signs of pregnancy? Did you miss your period? At Options for Women, pregnancy testing is free, confidential and of lab-quality. Following a positive pregnancy testing appointment, you are able to visit with our caring ultrasound technician. Ultrasound is the medical confirmation of pregnancy.

About Ultrasound
Once you have the positive pregnancy testing complete, you have the option to have an ultrasound. Our free Limited Obstetrical Ultrasound helps to further confirm if you are pregnant, that baby is in the right place, and how far along you are. Ultrasounds are both painless and provide confirmation about various questions you may have. You can feel confident and gain peace of mind.

I'm Pregnant, But Don't Know About My Next Step
Whether you have already taken a pregnancy test at home or simply just think you might be pregnant, you deserve medical confirmation of pregnancy through a free and confidential ultrasound. A nurse can help answer any medical-related questions to help you gain peace of mind through follow-up after your visit. You deserve to have all the information about the different steps involving your pregnancy. We offer local resources and information to help you make the best decision for you and your baby. Do not wonder or worry alone!

After The Ultrasound
Following the ultrasound, a Client Advocate will discuss support services offered at Options for Women and help you explore your next steps. Also, help you connect to local resources that help with medical needs, food, housing, financial help, and more.

Our Earn While You Learn program is designed to help answer any questions that you come across. Topics of interest for moms-to-be include: Your Ultrasound Appointment, Prenatal Care, Eating for Two, Your Developing Baby (1st Trimester, 2nd Trimester, and 3rd Trimester), Importance of Bonding, and many more! Earn While You Learn, or EWYL, sessions can continue for as long as you would like up to baby's 2nd birthday. After EWYL, you may visit our baby boutique and receive items that help prepare for baby (clothing, diapers, crib, car seat, etc.). Your ultrasound appointment is designed to help you feel confident about your pregnancy.
Give us a call to set up your FREE and confidential ultrasound, or head over to our website to schedule your appointment. We are here to help and support you!