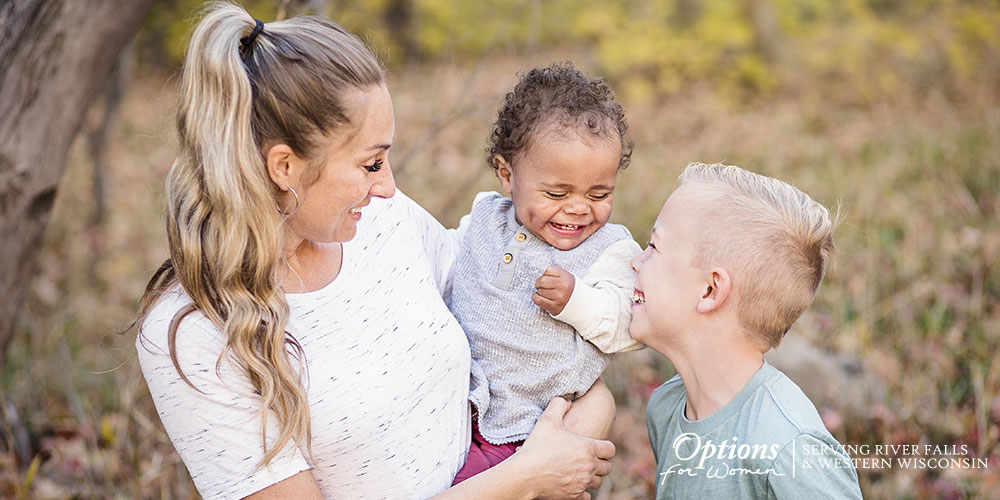 Believe that you are pregnant? You may feel alone or think that you are not financially stable. Overall, you may feel that this pregnancy is not for you. Wonder what your next steps will be? Before you make a quick decision, get all of the facts for all of your options. Learn about adoption, abortion, and parenting. You may feel that there is only one answer for your situation. Allow us to help guide you on your unique journey. Do not wonder or worry alone! We are here to answer all of your important, need-to-know-now questions.
Your Options
At Options for Women you have options. You are in control of your decisions. You have three options: to adopt, to abort, to parent. Are you unsure of what your choice will be or would like to see all of the facts? Make a list of all of the pros and cons for each option.
Adoption can happen through open adoption, semi-open adoption, or closed adoption. Which option works better for you? 
Adoption options for you:
Open Adoption: With Open Adoption, birth families and adoptive families stay in contact. Both families have the opportunity to stay in contact before labor and delivery, after labor and delivery, and during the child's life. The interactions occur face-to-face, by phone call, and through letters and pictures. "Today, almost 60% to 70% of domestic adoptions are now open adoptions." Adoption Network.
Semi-Open Adoption: The choice for Semi-Open Adoption is relatively new. This adoption process allows birth parents and adoptive parents to exchange communication, but identifying information is private. This means that face-to-face interaction does not occur. Typically, the adoption agency is the mediator.
Closed Adoption: With Closed Adoption, birth parents have the privacy and comfort knowing their birth child is with a family of their choosing.
Why Does Adoption Work?
Adoption allows birth families to offer life and adoptive parents to nurture life. "There are 1.5 million adopted children in the United States," Adoption Network. Yes, adoption impacts many lives. Adoption works as it allows birth parents to be in control, it allows birth parents to be at peace with their decision, and allows the children to create a life full of opportunities for themselves. 
Adoption is an Option
Not sure who to contact for an adoption? Need more information about your adoption options? Any other questions regarding your pregnancy options? We offer various referrals and contacts that work with your individual story and circumstances. Discuss your options on a personal level. You have options. You are also welcome to walk-in at our clinic located on main street in River Falls, Wisconsin. Find us online at optionsforwomenrf.com/ or call us at 715-425-8539.
Your story is important. You are heard. You are not alone!