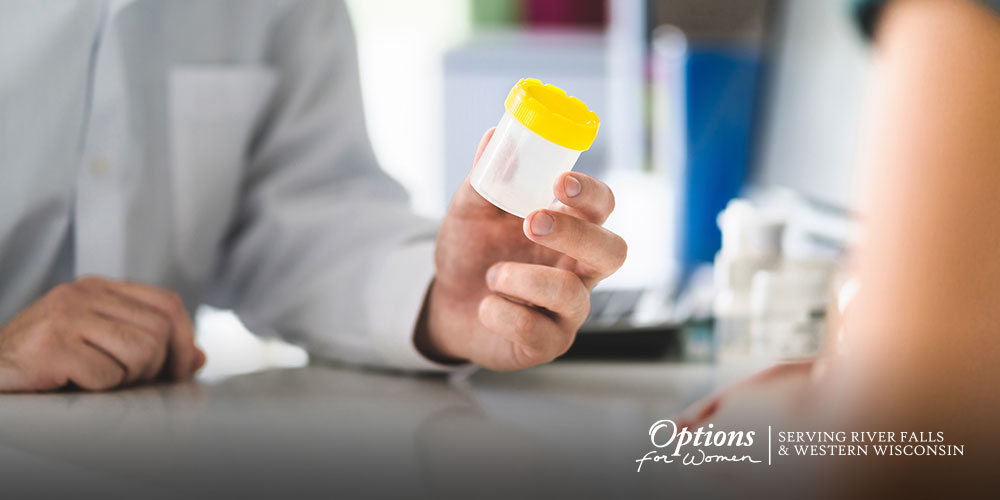 What Can I Expect During an STD Test?
Options for Women – River Falls tests for Chlamydia and Gonorrhea. Both are commonly reported and treatable.
Our STI / STD test is a simple urine sample. Testing is painless and quick. Results will be sent to a lab for testing and are ready within five days. Our services are confidential at no cost to you.
What Happens After an STD Test?
After you have provided your sample, a client advocate will speak with you. Together you can cover any concerns you may have and find appropriate referrals as needed. A nurse can answer more in-depth, medical questions that may arise. A second appointment will be needed to receive results.
If you test positive for Chlamydia, we provide treatment free of charge.
How Do I Know If I Should Get Tested?
Boths types of infections carry their own problems and can leave patients worried. Infections that are left untreated can become diseases, which are more serious. Being informed will help prepare you for your appointment and get you asking the right questions!
Chlamydia
Chlamydia is the most commonly reported bacterial sexually transmitted infection in the United States, according to the Centers for Disease Control. There are more women-related cases. Chlamydia can spread through any form of sexual contact.
Gonorrhea
Both men and women have an equal chance of coming into contact and being diagnosed with Gonorrhea. After getting the infection, symptoms can show up 1 to 10 days later. Gonorrhea can spread through any form of sexual contact.
You should be tested whether you have had sex just once (if you have been with a partner who had a previous partner) or multiple times. Those who are sexually active (through vaginal, anal, or oral sex) should be checked if one or more of the following symptoms are present after sexual intercourse:
sores
bumps
pain / burning sensation during urination
abnormal discharge from genital
abnormal odor from genital
unusual vaginal bleeding
pain during sex
nausea
fever
In order to make sure you are at your absolute healthiest, make getting tested a priority! Chlamydia and Gonorrhea do not always show symptoms!
Contact Options For Women
Schedule your appointment online at optionsforwomenrf.com/appointment/ or call us at (715) 425-8539. Walk-ins available. Your health matters. Do not wonder or worry alone!